SOURCE
What would you say if you hear about a project of a documentary for a band directed by TWO people which is based on the biography created by ONE person? Home of the Wind. A History of Moonsorrow is an ambitious project of two dedicated Moonsorrow fans, Leo Aragón and Abel 'Grilo' do Demo; HeavyMusic had a talk with Abel about working on the documentary, challenging moments and personal dreams.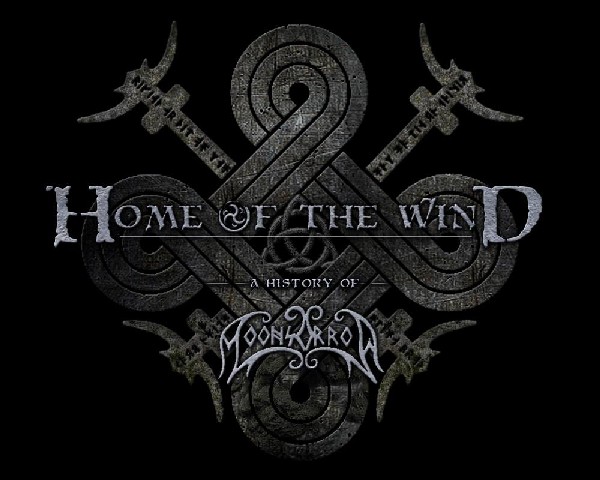 HeavyMusic: Please, tell us a bit about your project. How and when did it start to take shape?

Abel: February 16, 2015. I was hanging out with Leo in Camden, London, it was the first time we met in person after a few years of online contact and he just said, what do you think about turning your biography into a documentary? I was so shocked I thought it was impossible, but… here we are!

HM: Could you please describe your daily work on the project - who does what?

Leo works, I watch and agree! As the ancient Spanish tradition dictates. More seriously, he does all of the technical stuff: all videos and photos are done by him. On the other hand, all the longer texts are written by me, and I'm also mostly the one researching whatever topic we need at a given time. Everything else, we divide every week or two weeks, depending on who has more time or the best contact. There are lots of things to do and prepare. For example, now it is public information that we filmed the concerts in Madrid and London, but preparing those recordings was long as it involved many people, two full filming crews plus the band management. Another big thing is the different DVD editions that will be made and the perks that will be offered during the crowdfunding campaign… We have people helping us, a lot of them actually, each on their field, but we are still the ones making the decisions and coordinating everything the best we can. So there's always something going on to take care of. Like answering interviews. I'm in charge of that as well.

HM: How did the band react to your suggestion to film a documentary and were they supportive from the start?

At first they were so confused! A docuwhat? Like, how come? And what about? I think in the first moment the five of them had five different opinions on the matter, but as we started to be more clear about our vision and what we wanted it to be like, they started to get more excited. Since then, yes, they've been very supportive and offered us very significant help in crucial moments. Wait for the crowdfunding and you'll partially see what I'm talking about… Right now, my lips are sealed!

HM: The video teasers we have already seen do create a feeling of suspense and, in some sense, of monumentality. Did you guys do anything similar (filming or writing a script) in the past before you started working on this project?
I personally did not, but Leo is all the time filming interviews. He does the videos all by himself and achieves TV quality. Search for 'The Breathless Sleep' on Youtube and you'll see. However the documentary won't be the same, it will have a cinematic approach. He's been experimenting a lot with that as well lately. I myself enjoy writing quite a lot, so I'm really excited about making a documentary script. By the way, I'm glad you get that feeling from the videos! Suspense and monumentality, I like that description.
HM: 'Home of the Wind' - a heroic name for a film about the band who surely have this heroic vibe in their music. How did you come up with such a name?
It has three sides. It will be shot in Finland, in the locations that are relevant to Moonsorrow's history. So that is the home. Paganism and nature are the foundations of the band's concept, so that's the wind. And finally, it links to the song "Tuulen koti, aaltojen koti" (eng. - Home of the wind, home of the waves), which has this calm, home-like feeling—even wind and waves sound effects. By the way, you'll find waves in some HOTW related material; just keep your eyes open!
HM: From your point of view, what makes your documentary stand apart from similar projects?
The cinematic approach, and how the content will be treated. It will have a leitmotiv, a beginning and an end, and a particular atmosphere. Concerning the script, I personally like a lot the
History of Iron Maiden
documentary series (the one that started in the DVD
The Early Days
), because of the way the interviews are conducted and how the whole story is told. The visual side is totally missing in that one, but the story flows very well. Besides, Moonsorrow has a very important philosophical content, or spiritual, or whatever you want to call it, so that is definitely something that will be featured too. Add up the story, the concept and the cinematography, and it makes a pretty nice film, don't you think?

HM: You are starting a crowdfunding campaign in May but you have already gathered some field help from dedicated Moonsorrow fans (and I find this fact to be pretty awesome!). Did you expect such a feedback and supportive attitude or have you actually been relying on you alone from the start?

Yep, that's right, the funding starts in May but the crowd started long ago! I actually was expecting some collaboration, yes. I expected some people would want to contribute, and I expected it because I totally would if it was someone else's project, and I know there are many fans like me. The first person who joined us was someone you probably know, and here I'm revealing this for the first time in public: our artwork is made by the incredible Belgian artist Kris Verwimp, who also made all those Marduks and Absus and Suidakras and Arkonas among others, as well as the very praised Tulimyrsky. After him, many more joined us: two community managers (at different periods), several filmmakers, a few people who will make subtitles, someone who's helping us with formatting the pages of a thing with pages we're preparing (hint hint hint), photographers, a very nice journalist from Moscow, two composers, and I'm probably forgetting about some more people. This isn't a team any more, this is already a legion. Or as the compound word says: a crowd. ;)

HM: What are/were the challenging points in your work which were not foreseen beforehand?

At first we intended to go and film in November 2015, I'm writing this in April 2016 and the crowdfunding hasn't even started yet… so imagine how many things happened. There weren't many real problems, but some aspects were very complex and, as you said, challenging. Firstly, we have our jobs and obligations, which sometimes slow us down more than we would like. Secondly, Moonsorrow is after all a part of the music business, which not because of being music is less of a business, and there are many people around who have the totally legitimate right to have some conditions as well. For example, copyrights belong to the labels. So, back to your question, there weren't big surprises concerning challenges—we mostly had in mind most aspects we would have to face in general terms, and then we had to deal with the smaller, sometimes previously unknown details that came with them.

HM: Without doubts this documentary is a project both ambitious and complex. What do you dream to achieve with it on a personal level?
I'm already having the fun of my life and I'm doing something bigger than I ever thought I would. In addition, I'm doing it about one of my top favourite topics ever. In addition, I'm making a lot of friends and meeting super interesting people. In addition, I have the honour of being involved in, deciding about and eventually having my name on a product that is going to be awesome, thanks to a great team I'm also a part of. In addition, I'm going to have one of the coolest editions of a Moonsorrow-related item ever (hint after hint!), actually prepared by my friends and me. In addition, I will organize and participate in an awesome event (hints never end). In addition… need I continue adding things?
HM: Do you imagine the biography you have been working on being published someday?
It's a pretty pleasant day today in Budapest, how's spring in Moscow? :)
HM: Since all this is obviously about Moonsorrow let me ask this one: which one MS song would you like to be played at your wedding and another one - at your funeral?
For my funeral, whenever I find out I died I will make a small poll among my mourners so they can choose their preferred one. And if I ever get married, I'm totally hiring the band to play a full set.
HM: Thank you!
¡Las que tú tienes! Thanks for your support!
HeavyMusic would like to thank Home of the Wind team for the interview!
Follow
Home of the Wind. A History of Moonsorrow
on
Facebook
Interviewer – Olga Degteva
Photos - Home of the Wind. A History of Moonsorrow