Link
Interviews
Moonsorrow
- September 2012
"Well, really, when we started the band we had a goal in mind: to have a record contract, someone who is actually paying for the making of the album and releasing it. We got that! Then, we got some shows here and there. And then we were thinking like: it would be nice to tour… it grows all the time, in our own heads. But, fundamentally, we are happy that we got the first record deal. Everything else is just bonus."
Check out the chat that SOM had with Ville Sorvali (bass and lead vocals), Marko Tarvonen (drums) and Markus Eurén (keyboards) from Moonsorrow!!!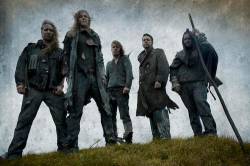 You guys will be playing tonight with Korpiklaani, Metsatol and Tyr. This is an incredible lineup. Was this planned between you guys (the bands) or was it planned by "management"?
Ville: Blame the manager. No, no… seriously, we don't really make those decisions but it is always nice to tour with people who are actually friends and not just "other bands".
Marko: Korpiklaani was about to do this tour and we were invited as a direct support for them. We said: "Yeah, why not?" We've been together for many tours before. It is a good combination, really.
Ville: It is the fourth tour [we do] with them.
April 2010 was the last time you had toured North America. How much has the band changed in between these couple of years? Do you feel like you have grown since then?
Ville: We party less… we are getting old (laughs). I can already see that.
Marko: And we have new material out to play in the States, we have a new album. Well, actually, it is not out in the States because the record labels fucked up the whole American release. It is only available in iTunes and that's a very sad thing. We really can't do anything about it because it is about the corporate and stuff like that. We kind of got into the crossfire of two different labels and the new one, Century Media, was willing to put our latest album out for this tour, in the States but the previous one, Spinefarm, somehow fucked it up with the licensing contract, blabla… It is all legal stuff…
Ville: The business part of it…
Marko: But, as for your question of what has been changed from the previous tour, it is really nice to play the new material here and to actually see the people liking it. It doesn't necessarily matter if it's released physically or not; people are downloading it and stuff, and they are still coming to the shows, buying t-shirts. So, it is very cool to see that we still have a growing fan base over here.
The other side now: Has your fans and public in general changed since last time?
Ville: I think that the turn outs are increasing tour by tour. People get to know us and tell their friends.
Marko: It's better than with Finntroll [previous tour in North America]. Actually, somehow, it is more fanatic during this [current] tour, the moshpits and everything…. it is more intense.
Markus: It is because of the set list (laughs).
Marko: Well, we really tried hard to put on a set list that kind of "moves" people, actually.
Ville: That actually has everything… we have two songs of the new album that takes half of the set already… (laughs)
Marko: It is always really hard to pick the songs from the past catalog that "fits" with the new songs, together. I think that the set list that we've been doing on this tour is working very well.
Ville: Yeah, it's working.
From 70000 tons of metal to label change. This year has been a "big" one for you guys. Any new big things coming up until the end of the year?
Marko: No… when we finish this tour we still have one occasional festival concert in Holland coming up in October but after that there's really nothing. I think we have to prepare for the new material…
Ville and Markus: Yes.
Marko: That's always…
Markus: …challenging.
Marko: A big challenge and a big discussion!
Ville and Markus: Yes! (laughs)
Ville: We have been touring for this album for one and a half years now.
Marko: Quite many shows…
Ville: [It is] better to start concentrating on new material soon…
All or most of you guys have side projects. How do you split your time in between these projects and Moonsorrow?
Ville: It is quite easy. The word "side" project already involves the concept of priority. Actually, none of us is spending time in other serious bands except for him [he points out to Marko] and Janne [Perttilä], who are in Barren Earth. The other ones just have projects. Pro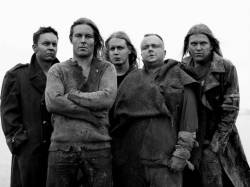 jects can be done at anytime when you are not playing with your band.
Marko: And personally, I think that we are spending more time with our personal lives than on the side projects; our personal every day life, going to your "normal" work. That takes more time out of Moonsorrow than the other bands because we don't get paid so well for this [playing]. So, we cannot afford to quit our day jobs. It's [just] like that…
Is it too hard to have your day job and the band?
Marko: It is hard and it is not… it depends. At the moment, I have this "alternation leave", that we have in Finland that allows me to take, for example, 6 months off from work to do touring. But, it is not every year it is like, after 10 years working history behind you, then you can apply for this leave, which I did, and I got it, and I'm really happy about it.
Now, I have been able to tour 3 tours with Moonsorrow and one with another band. So, it is kind of cool to spend a little bit more of this "rock n' roll life style". (laughs). But then again, on October 1st , I need to go back to work and have the normal daily routine again.
You have mentioned that you have changed labels (from Spinefarm Records to Century Media). How big is this change for you guys?
Ville: We haven't done anything with them [Century Media] yet so, it is hard to say. It seems that we have a very good relationship already, on a personal level. They were interested in signing with us. We had a couple of meetings before even talking about the contract. They were just like, trying to figure out where we stand. I'm really happy with that. They came to shows and just wanted to meet us.
Markus: Like yesterday, we met for the first time their US staff.
Marko: And also some friend's bands like Finntroll, Insomnium and Turisas: everything that we've heard from them about Century Media is positive. So, that's something we can trust on.
You mentioned earlier that you are planning to start working on a new album. Any ideas of what directions will be taken for this next release?
Ville: Yes and no. We've been in discussion about it, but…
Marko: Like [I] said: it is a big discussion first and then it is a lot of work.
Ville: The point where the direction of the album is actually determined is the point when you actually start writing it. When we have the first material at hand then we know where it is going.
So, when can your fans expect the new album? Any idea?
Ville: Before 2020 (laughs)!
Marko: I think it should be out the end of next year/early 2014.
Markus: Yes, something like that.
Marko: Something we don't want to do is to work with schedules. We hate the schedules, we hate the record labels setting certain dates that: this must be finished until this date. There's when usually things get fucked up, like on the last album, the German release got fucked up because the schedules went wrong. It wasn't our fault, we delivered everything on time, but labels fucked it up in the end.
Ville: They didn't communicate.
Marko: They had a schedule for us and we delivered everything by the schedule but in the end they fucked it up. So, what is the point of having those schedules?
Ville: And the thing with Century Media is that already, at the early stage, our artist and relation person told us that he know our band very well (he has been following us since the beginning) and he knows that we don't work with schedules and he respects that. So, he is not pushing us to make a new album like, right now. He accepts that the new album will be ready when it's ready.
About these schedules: could they hurt the creativeness of the writing process, in case you get closer to the due dates? For example, the time you had the schedules with Spinefarm?
Ville: Actually, in truth, I wouldn't like to be talking shit about Spinefarm. They didn't make those schedules, we made them. They just asked us to make "A
" schedule. We told them that we needed time and they also respected that.
But talking about anybody: if someone asks you to set-up these schedules and you end up getting tight, would you have to sacrifice the creativeness because of that?
Marko: Not for the music. Usually, if we have to sacrifice something it's the promotion mainly and maybe some parts of the cover art or something like that.
Ville: Yeah, because the schedules are made so you have the product in your hands at least 3 months before the release so, you can have to promote it. If we set these schedules in stone, which we always have to do in the end anyway, if we delay the finalizing of the product then the times is taken off from its promotion. We don't sacrifice the music.
Markus: No… never.
Marko: We hardly book the studio before the album is written.
I know this question is the basic standard one but I can't resist! I have to ask you: you guys have been growing so much the past years, getting more and more known around the globe. What is your personal goal out of this? What would be your ultimate goal that would make you feel as you are an accomplished musician?
Ville: Well, really, when we started the band we had a goal in mind: to have a record contract, someone who is actually paying for the making of the album and releasing it. We got that! Then, we got some shows here and there. And then we were thinking like: it would be nice to tour.
Markus: [It would be nice] to do some gigs out of Finland.
Ville: Yeah… outside Finland. Then we got that. Then we started to think about touring and then suddenly we got a booking agency, we toured Europe a few times…
Marko: And somehow we got some money and that was the turning point (laughs).
Ville: Yes. And then, after touring Europe a few times we thought: "It would be nice to tour outside Europe as well". And then we got an offer to do an American tour. We came here, did that and then we said: "We want to come back here again! And actually we want to see some other places than Europe and North America!" Then we got an offer for Japan and China. And now, we are talking about other continents then these 3… it grows all the time, in our own heads.
But, fundamentally, we are happy that we got the first record deal. Everything else is just bonus.
Marko: In the end, if this was supposed to end tomorrow, we would still be happy that we got the first record deal.
Ville: Yeah… especially that (laughs)… they screwed us over so bad!!
Marko: Seriously, we are very down to earth we don't have big plans…
So, it is milestone by milestone…?
Marko: Day by day…
Ville: Whatever happens, happens…
Marko: There are other people who may have some schedules and big plans for us. Well, they may discuss about them… we are all ears but, we are very good saying "No" to things. We have always been…Since the beginning, we were offered so many bad tours. For 5 years, we were offered such bad European tours we just had to say no.
Ville: We just had to wait and see if somebody would come up with a reasonable offer and we did that. We basically did the ground work with only a few shows here and there.
Marko: And I think we were very wise with that decision, to not take part of those crappy tours.
Ville: Yeah, because we would still be in debt if we did 2 or 3 of those tours. It's what it costs.
Any messages to the SOM readers?
Ville: It is always pretty hard to answer this question because I don't really have "last words", I have so many words to say before I die so, I would've like to finish it here (laughs).
Marko: Kick ass!!! Drink "metal" (laughs)!! Freeze hell! Come to the shows! Have some good time with Moonsorrow, we are very friendly and nice and… come to see us after the shows and have a party.
Ville: Offer us some alcohol!!!
Marko: Cheers! (laughs) We are able to drink all your money!!! (laughs)
>